Spitsbergen driftwood picture frame
The new Spitsbergen driftwood picture frames have arrived in in October 2022! After a long trip from Longyearbyen to Franeker in the Netherlands, we received finally 20 beautiful picture frames, handmade in Longyearbyen from real driftwood found on Spitsbergen's beaches. They come with beautiful polar bear pictures and there are two versions to chose from: a polar bear portrait framed in wood from Dicksonfjord and a polar bear family with a frame made of wood from Kvedfjordbukta.

Everybody who has been to Spitsbergen will have seen the immense volumes of driftwood that you can find on most beaches there. Most of it came from Siberia and drifted across the Arctic Ocean to Spitsbergen, just as Fridtof Nansen's Fram did from 1893 to 1896. This is a journey that countless logs of driftwood do every year until today. A lot of it is actually coming from forestry in Siberia, where the logs are flooded down the large rivers. A lot is getting lost during this process.

Other driftwood comes from natural sources or any other kind of wood that is getting lost. Any of this can be the raw material for our Spitsbergen driftwood picture frames (except wood that is of historical value, such as parts of wrecks, as this is protected). In other words, it is a renewable resource – there is new driftwood coming every year.


Driftwood has been used as a semi-natural resource for many decades or actually centuries by trappers and others. They used it to heat their huts and sometimes also to build them or anything else they needed.
In the 1970s, there was even a saw mill in Hiorthhamn, opposite of Longyearbyen in Adventfjord, to produce building material from driftwood, but this did not turn out to be economical in the end.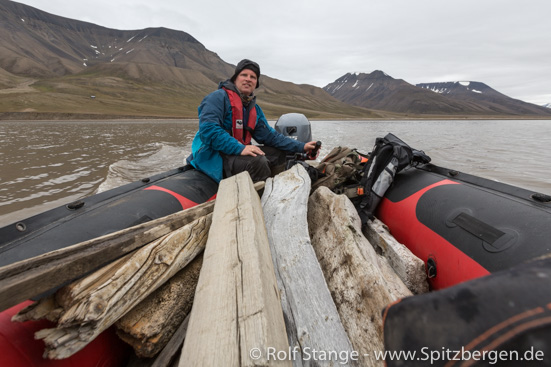 I had carried the idea of picture frames from Spitsbergen driftwood around with me for some time. But the logistics are challenging and it took years from the idea to the first picture frame being made and available.
On my voyages around Spitsbergen I collect suitable pieces of driftwood when the opportunity arises and take them to Longyearbyen. There, they have to be stored for at least a year to dry properly before further processing. This is then done by master carpenter Wolfgang Zach who is living and working in Longyearbyen.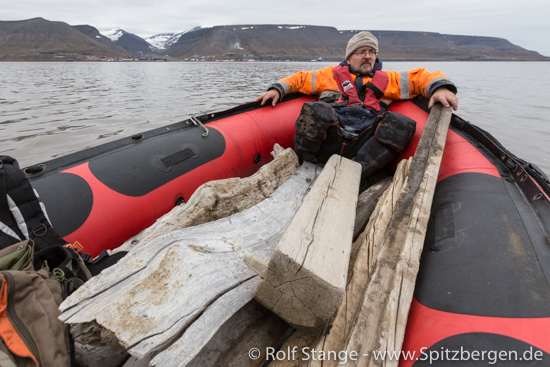 The idea was clearly to preserve the looks and atmosphere of the original driftwood that took the long journey across the Arctic Ocean. Cutting up driftwood may bring a surprise: outside, it appears very much weather-beaten and grey, but once sawn up, it looks actually fresh just like a piece of wood fresh from the building supplies centre. This was obviously not what we were looking for when we started making picture frames from Spitsbergen driftwood!
A long journey, from a forest in Siberia down a river like Lena or Yenisei, across the Arctic Ocean – possibly quite close to the North Pole – to an arctic coast somewhere in Spitsbergen, and from there to the workshop in Longyearbyen and finally to the Spitzbergen.de logistics centre in Germany not far from the Baltic Sea!
We started collecting the first pieces of driftwood in 2014 to experiment with some early designs, and the first 16 frames became available in 2017. They were sold out within a few days, so it was an easy decision to continue with the project and get another collection on the way.
The raw material for all picture frames is exclusively real Spitsbergen-driftwood, which found the way to the workshop in Longyearbyen and to our shipping department in Germany described as above. Collecting young driftwood that does not have any historical value is legal. A license is required for export, which we apply for every year from the Sysselmester.
Scope of delivery
The delivery includes the picture frame without picture, glass or back board. Glass and back board are easily available in specialised shops. There is a lot of room for individual ideas when it comes to those parts, and shipping glass plates is obviously difficult, so we have decided to ship the driftwood frames without them. So you don't pay for items that you may possibly not want to have.
Standard frameless picture holders can easily be set into the frames from the back side. The frameless picture holder is then fixed with small nails or screws (recommended) – so a little bit of manual work is required to install the picture of your choice, but that is easy and quickly done for example with a cordless screwdriver. Everything is prepared to the point where you just have to remove some screws, put the frameless picture holder in and then screw the screws back in again.
Size
Sizes may vary slightly: every frame is unique, due to the natural raw material and the manual work involved in the craftsmanship. The back side is polished even, the front shows largely the original surface that was created by sea and ice, wind and weather, gravel and rocks. There is also a narrow stripe of partly polished wood on the front for contrast.
Outside: 40 x 50 cm
Inside (front; space for visible picture): 28,5 x 39 cm
Inside (back; space for frameless picture holder): 30 x 40 cm
The price
The driftwood picture frames come for 179 Euro including VAT if applicable depending on your country and shipping within Germany. Shipping costs apply for shipping to other countries.
Reference FRM-001 – Weight 2.10 kg